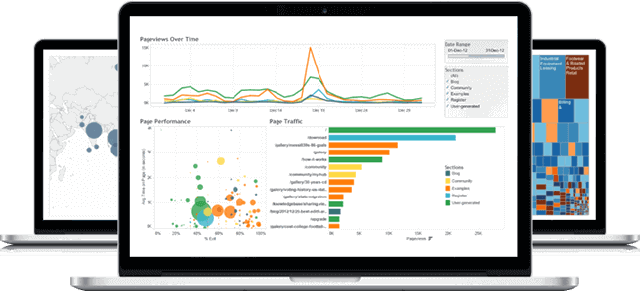 Tableau vs. Microsoft Power BI: Comparing Functionality and Support. Which is better? in Doha Qatar
Request Free Demo
Tableau and Microsoft Power BI are the two main candidates in business intelligence (BI) and data display software industry. Both include intuitive data assessment tools and make it easy for business managers to work with them. Although there are alternatives and a similar set of features, one might be the best option to get started.
Overview of Product
Tableau: Tableau provides powerful BI tools to improve data representation and discovery for all types of organizations and business users. In addition, Tableau provides the option to include control panels in current business applications, such as SharePoint, for quick analysis.
Power BI: Microsoft Power BI Consulting Services in Qatar is a cloud-based information and business analysis platform that provides a complete overview of key enterprise data. It simplifies data sharing and evaluation for users by connecting to all their data sources, and provides scalable control panels that make it easy for users to choose different scenarios such as layouts, and drag and drop data from navigation to visualization.
Data sources
Tableau: When users add data from multiple sources, relationships are automatically determined by Tableau. In addition, Tableau provides users (such as NoSQL and Hadoop Consulting Services in Qatar)with the ability to modify or manually create data links based on company preferences.
Power BI: Power BI is very capable of connecting to external sources of users including SAP HANA, JSON, MySQL, and so on. When users add data from multiple sources, relationships are automatically determined by Power BI. In addition, it enables users to connect to Microsoft Azure databases, third-party databases, files and online services such as Salesforce and Google Analytics.
Customer Support
Tableau: Direct phone and e-mail support is available as well as customer portal sign-in to provide support ticket.
Tableau also provides a comprehensive knowledge base, categorized by three subscription categories: Desktop, Server, and Online. Users can access support resources designed specifically for the software version, including the first steps, best practices, and how to best use platform features.
Users can also access the Tableau Consulting Services in Qatar community forum and attend training and other events.
Power BI: Customer support functions are limited to users with a free Power BI account. All users can provide a support ticket, however, users with a paid account receive faster support.
Services We Offer:
Strategy
Competitive Intelligence
Marketing Analytics
Sales Analytics
Data Monetization
Predictive Analytics
Planning
Assessments
Roadmaps
Data Governance
Strategy & Architecture
Organization Planning
  Proof of Value
Analytics   
Data Visualization
Big Data Analytics
Machine Learning
BI Reporting Dashboards
Advanced Analytics & Data Science
CRM / Salesforce Analytics
Data          
Big Data Architecture
Lean Analytics
Enterprise Data Warehousing
Master Data Management
System Optimization
Outsourcing
Software Development
Managed Services
On-Shore / Off Shore
Cloud Analytics
Recruiting & Staffing
Request Free Demo