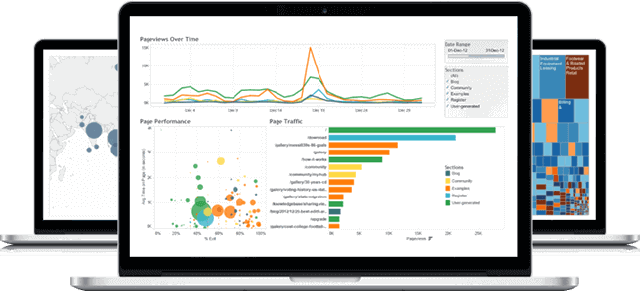 QilkView vs. Tableau vs. Microsoft Power BI Consulting Services in Qatar in Doha Qatar
Request Free Demo
We classify the key pros and cons of Tableau, Microsoft Power BI, Qilkview and also include a full business intelligence software leaderboard showing how each stacks up across key business and functional requirements.
Tableau advantages the industry in data visualization, and companies are investing heavily in latest data align, clustering and more stronger analytics functions. This user friendly interface permits non-experts users to speedily and effectively create customized dashboards to give insights to a wide spectrum of business information. Tableau Consulting Services in Qatar can communicate to nearly any data repository, ranging from MS excel to Hadoop chunks.
The capabilities of the solution, compared with its large data source connections, make Tableau a front runner in realm of data visualizations. Tableau also provide a streamline customer interaction that makes latest analytics for segmentation and data clustering possible. Roadmap of tableau reflects the organizations efforts to move beyond data visualization to more advanced analytics. Included as part of this focus on wider analytics support are enhancements to self-service data stabling, more this control data governance and metadata management, additions to emerged latest analytics. Tableau also has included support for submitting analytic content on different of publishing platforms.
Qilkviews software has one of the more latest application programming interface sets in the analytics company and has constantly been enhancing its functionality over the last many years. So many companies requesting API support, QlikView consulting services in Qatar has also provided APIs to control functions previously accessible only through this user interface. Result if this has been rapid adoption of the Qilk Analytics Platform, Which is being used today by developers to emerge analytics queries into reporting and analytics apps.
Microsoft Power BI is concentrated on being the leader in analytics and BI from a TCO standpoint. The roadmap of Microsoft Power BI Consulting Services in Qatar has made best on the promises to business users to provide data preparation, data dashboards and data discovery in the most latest release. Microsoft also continues to support the first excel based add ons that were initially shipped in Power Pivot and Power Query.
Request Free Demo